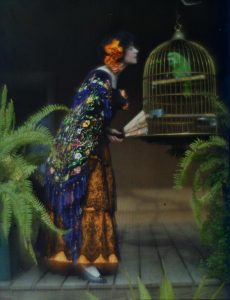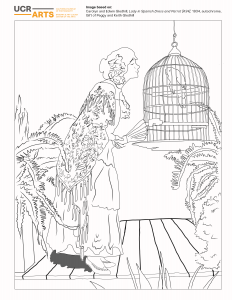 Carolyn and Edwin Gledhill, Lady in Spanish Dress and Parrot [#34], 1934, Autochrome, Gift of Peggy and Keith Gledhill
Download Coloring Sheet
Destress with us for your museum moment of zen by coloring this dreamy image of a lady and her parrot by the Gledhills. Carolyn and Edwin Gledhill were a married couple who ran a photography studio in Santa Barbara, California between 1907 and 1935. Carolyn had learned photography from her father, a professional photographer. In the Gledhills' studio, she operated the camera, retouched negatives and prints, and gave final approval on images. Edwin did the majority of the darkroom printing, and coached their clientele on posing.
The Gledhills made photographs that were intentionally soft-focused, romantic and dreamlike. Daydream away while coloring then post your finished picture and tag UCR ARTS!
You can browse California Museum of Photography's extensive collection of Gledhill photographs in our emuseum.